The MT4 platform provides a variety of oscillators that help us to measure the strength of price movements. To learn more about these oscillators you need to get back to the previous topic on Oscillators.
Using the MACD indicator to measure the strength of the breakout
The Moving Average Convergence Divergence (MACD) indicator is one of commonly used indicator by most traders due to its unique properties like the divergences and the histogram.
It is the histogram that shows signals for a change in trend, measures trend momentum and gives trade setups by showing divergences between the price action and the histogram.
How MACD measures momentum is our question of interest but if you still needed more about this indicators, checkout on the notes in one of the previous sessions about indicator, MACD here.
Take a look at the Gold Hourly chart below;
When the histogram gets smaller, it indicates weaker momentum in the trend. When the histogram gets bigger, this means the trend momentum is increasing or stronger.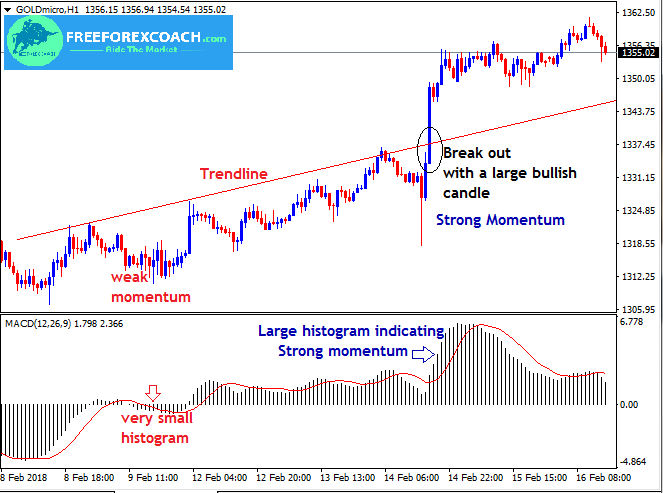 So judging from the above chart, you can easily tell that the histogram falls following a weak momentum in the trend,  this may signal a probable change in the direction of trend and  a rise in histogram following increase in momentum  of a trend signals a strong trend a head.
Following the break out on the trendline, it confirmed with a large bullish candlestick and when you check the MACD histogram, it's size has increased compared to the previous histograms.
This is an indication for a strong momentum coming up in the trend and it would be a good signal to take a buy position after the close of the breaking candlestick.  As the trend rallies fast, the MACD histogram continued to grow bigger and bigger indicating strong momentum in the trend
If price breaks with strong momentum, there is high possibility that the trend will rally for a longer time compared to when price breaks with low momentum.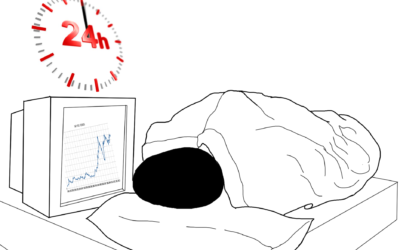 How long you should hold an open position, is a personal thing for all traders. The decision is all yours. You know what your goals are as a trader, the kind of strategy you use to trade.  All this starts from what you are? and What you want? If I am to answer, this...
Viewing 18 topics - 1 through 18 (of 18 total)
Viewing 18 topics - 1 through 18 (of 18 total)