A bearish rectangle pattern is commonly seen after a very sharp fall in prices in down-trend representing a small pause in prices. It is a continuation pattern therefore shows that price is likely to continue in its direction after the completion of the pattern.
Price pauses for mean time before continuation due to market indecision. This means both the buyers and sellers are not sure of where the market is heading leading to equal power on both sides. Only a confirmation by break and close of candle below support line will lead the traders after the completion of the pattern.
Price moves up and down between the support line and the resistance line forming a trading range during the pause in the trend leaving equal highs and lows. A break and close of candle below  the support line confirms the Sell entry.
Let's start with the illustration below;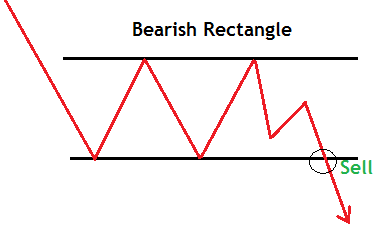 As price breaks  the support line above, it shows a continuation in trend direction and this would be the good opportunity to sell the pair . So entry signal is confirmed below the support line after the close of the confirmation candle.To determine the target point, measure the distance between the support line and the resistance line i.e the height of the rectangle and project same distance downwards.
Therefore, your target point from entry point should be equal to the distance between the resistance and support line of the rectangle and your stop-loss slightly above your entry point. 
Let;s take a look at the AUDNZD, 4-Hour chart below;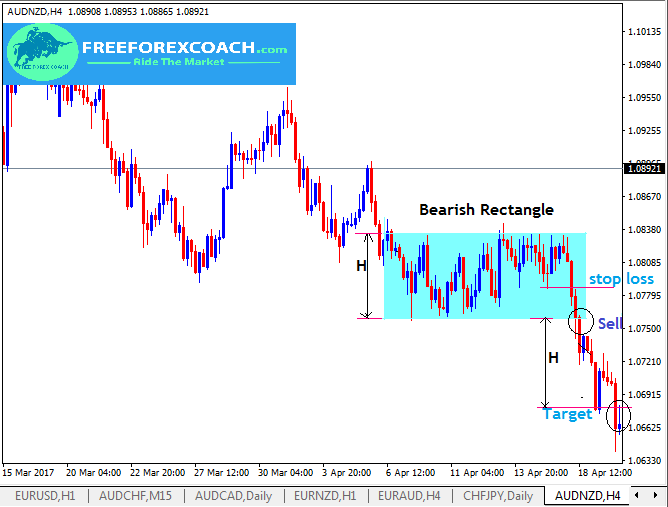 From the above AUDNZD, 4-Hour chart, the confirmation for a sell signal for continuation is the Break and Close of the candle below the support line as shown.
So the Profit target is got by measuring the height of rectangle (H) and projecting that same distance (H) downwards as shown in the chart above. Stop loss is set slightly above the entry-level of the pattern.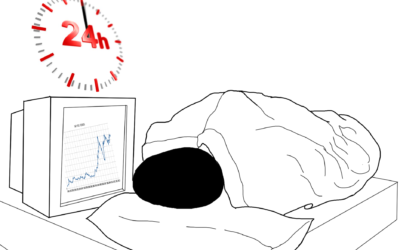 How long you should hold an open position, is a personal thing for all traders. The decision is all yours. You know what your goals are as a trader, the kind of strategy you use to trade.  All this starts from what you are? and What you want? If I am to answer, this...
Viewing 18 topics - 1 through 18 (of 18 total)
Viewing 18 topics - 1 through 18 (of 18 total)