This is a bearish reversal pattern that appears after a long upward move of prices signaling a change in trend. They behave almost the same way as the double tops only that the triple tops test the resistance line three times instead of two.
It forms three peaks and two bottoms arranged almost at the same level. The highs and lows can be joined with a line to mark support and resistance levels. The pattern is considered complete when price breaks the lows or support line. As the price breaks the support line , we expect a change in the previous trend.
The support level commonly referred to as the neckline acts as the trigger line for the confirmation and entry-level in the direction of the reversal breakout. It is drawn by joining the lows of the first top and the second top of the pattern.
When a bearish candle breaks and closes below the support line, the pattern has confirmed the sell signal
After entry, your stop-loss level should be set just above the 3rd top of the pattern. The profit target level is got by measuring the height of the pattern (distance from support line to the top) and then projecting that same distance forward from the support line to the downside as shown on the chart below.
Let's take a look at the AUDNZD, Daily chart below;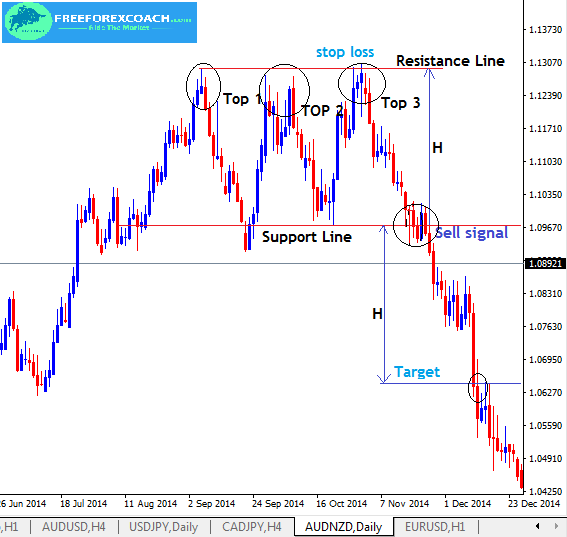 From the chart above, the Sell signal was at break & close below the neckline (support line). The Stop loss just above the 3rd high . The target was got by simply measuring the height of the pattern (H) and projecting that same distance from the neckline downwards.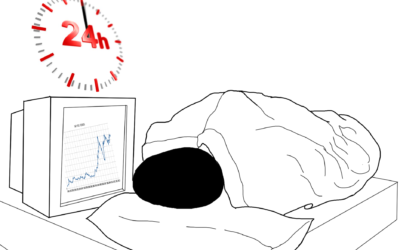 How long you should hold an open position, is a personal thing for all traders. The decision is all yours. You know what your goals are as a trader, the kind of strategy you use to trade.  All this starts from what you are? and What you want? If I am to answer, this...
Viewing 18 topics - 1 through 18 (of 18 total)
Viewing 18 topics - 1 through 18 (of 18 total)