Another way to trade using Moving Averages is to look at them as dynamic support and resistance. They are referred to as dynamic because they are not like the traditional horizontal or diagonal support and resistance lines.  They tend to change as price changes. The fact that most traders use these Moving Averages to trade, these levels are being watched by many traders and because they believe in them, what happens is that price also starts to respect these Moving Averages and it becomes a self fulfilling prophesy.
When the trend is up, price paves above the Moving Average. As price dips and tests the Moving Average several times, it finds support at the Moving Average and so we can buy on a bounce of prices from the moving average.
If the trend is down, price will pave below the moving average, as it rises and touches the Moving Average, it finds resistance so we can sell as price fall off the moving average.
let's take a look at the chart below.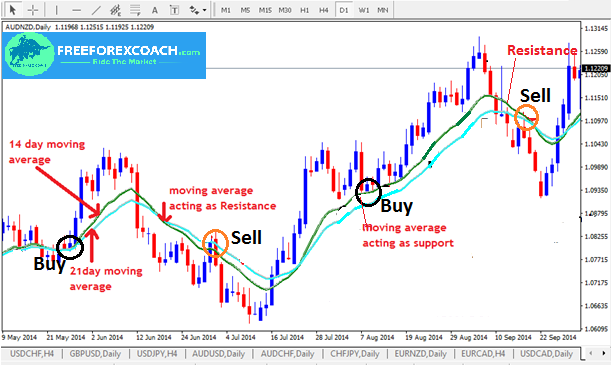 Though the Moving Averages are not like the normal support and resistance, they tend to behave the same way. As price holds below the Moving Average several times , it shows high selling pressure in the market.  Price finds it hard to breakthrough. The sellers are  stronger than buyers.
The Moving Average above the price becomes a resistance and  price is likely to bounce back giving a sell signal.  Likewise when price holds at the moving average several times it becomes a support and there fore is likely to bounce back giving a buy signal.
Like any other support and resistance level, price cannot hold forever, sometimes these levels are violated and price breaks through. You can also take advantage of a strong break below or above the moving  average to trade a breakout.
This can be done the normal way trade breakouts. Wait for a confirmation breakout candle to close before you take a position.
Another way to trade a break out is to wait for a price retest after the break  to avoid a fake out. Position yourself with stop loss levels and make use of risk management to limit your losses.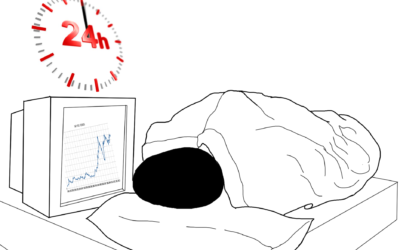 How long you should hold an open position, is a personal thing for all traders. The decision is all yours. You know what your goals are as a trader, the kind of strategy you use to trade.  All this starts from what you are? and What you want? If I am to answer, this...
Viewing 18 topics - 1 through 18 (of 18 total)
Viewing 18 topics - 1 through 18 (of 18 total)