The same way you do market analysis to trade foreign currency, you need market analysis to trade binary options. Like we said before, it sounds very easy to say the market will go up or down but it's not easy to get it right.
When you do market analysis you will be able to study the behavior of the market in the current situation. Compare it with the past behavior so as to predict the future behavior of prices.
Market analysis for binary options is not any different from analysis in forex trading, so this means we shall still see candlesticks, bar graphs and line graphs, technicals, fundamentals and sentiments, and economical news.
Am sure you remember this quite well in our forex trading course.
Listing the three market analysis;
 What is Fundamental analysis?
 This is relating all factors that influence the status of the economy. Such as economic parameters, social news, political crisis and natural hazards.
Markets are very sensitive to economic dynamic changes in that a small rumor about any of the major economic news can bring a shift in the market.
Trading news is a trading strategy where fundamental analysis is used to identify setups or expected future behavior of the market.
From our previous experience about fundamental analysis, we have seen that different market news affect the market differently where by we talked about major market news such Interest Rate adjustments, GDP, NFP, CPI and Crude Oil Inventories.
We said these are the major news in the market that tend to cause very high and fast movements  in the market due to increased volatility which at times causes a spike in prices to further highs or lows. While the other news may not bring any change in the market.
Like we said trading news may be very challenging but as a trader you always have to be confident about every single decision you make before placing a trade. After all you are looking at all possible ways on how you can profit from trading.
As a binary option trader, news trading strategy can be very effective when you are trading up/down options. After all you place a trade according to the direction you think the underlying asset will take.
Your understanding and interpretation of news towards the economies in question guides you on how the market will react and you will be able to know which direction the asset will take.
Let's say you want to take advantage of the Interest Rate decisions from the Central Bank of Australia.  And you are predicting the bearish results so you are just waiting for the news release to make a confirmation.
When the news gets better than expected, you expect a rise in price higher than the market price and when the news becomes less than expected, we expect a fall in the AUD.
So if you were selling the AUD/CHF and the news is less/poor than expected, it's an obvious payoff, your trade is likely to close in money. You can still choose to buy a call when the news turns out good for the AUD.
Relative to trading news, there are other things that must be put in consideration. Like we said before some of the news may occur and nothing happens in the market.
For example if news turns out as expected, it may not cause any strong movement in the market. This is because the traders were ready and had made the necessary adjustments.
As a news trader in the binary option market you need to be confident and able to know what really moves the market when it comes to news. Which news is likely to bring a spark that can keep you in money even when your target closes before your expiration time?
This reminds us that we can still trade touch/ no touch options or any other type of binary options.
All we need is to choose news that  strongly move the market enough to the target price and before the expiration time.
Technical analysis
Technicals such as indicators i.e. Moving Averages, Bollinger bands, Stochastics, Support & Resistance, Trend lines and Pivot points can be used on price charts to determine levels that may be helpful in identifying probable binary signals.
Technical analysis will also give you a comparable measure of the past events of prices and where the price is so that you are able to gauge where price will go.
With technicals you will be able to formulate or identify different patterns that can be used to study price behavior.  Price tends to repeat the same patterns over and over again.
While trading binary options you will be able to tell what happens at certain levels when the same pattern appears on the chart. This will help you to generate a profitable strategy that can be used to increase your chances of getting your trades close in the money.
 Sentiment analysis
This involves measuring and understanding the market feelings and emotions in the current situation in relation to risk appetite.
Knowing how traders are responding towards different financial assets and foreign currencies, their levels of confidence to invest in risky assets in relation to safe haven assets helps you to determine the more bought assets and the more sold assets in that period of time.
With this kind of information you will be able to gauge how the future market is likely to be and basing on your judgment you can choose to place a call or a put option according to what is appropriate.
For example if you realize that the asset is testing its higher highs  or lower lows due to overbought  and over sold scenarios, you expect a spike in the prices of the asset.
This may indicate that the trend is coming to an end very soon and knowing that helps you to predict the market feelings.
As a trader if you are confident about the current status of the market, it becomes easy to make a decision whether to take a call or put option for your trade in respect to your analysis.
If you believe the market is in a continuation trend, you can work along and take its side while if you feel the market is at a point of changing direction, still walk a long and make it right.
Whatever choice you make, it should be able to lead to the right direction of your predictions.
Combination
Like in spot forex trading, the three major market analysis work best when combined together. Since the market is unpredictable, taking one side of analysis to trade may be at times so disappointing. It may prove you positive when it is showing a different thing on the market chart.
The only way to be sure is to use all the analysis as a basis of your judgment before you carry on any trade.
When considering all, the fundamentals will help you to know what is currently happening in the market by giving the major news that are likely to drive  market prices. The techincals will help you determine certain levels and points in the market where prices tend to hold illustrating levels of indecisions in the market. These can be overbought and sold prices levels which include support and resistance levels.
And lastly with sentiment analysis you will be able to tell whether traders are investing more in risky assets or are selling off running to/buying more of  less risk assets.
As you do that over and over again you will be able to develop  good trading practices. You get the ability to make clear judgments about the happenings in the market and quickly learn to a adjust to any new changes in the market . So there will be no more surprises to sweep you off your feet.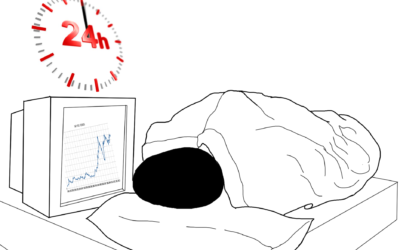 How long you should hold an open position, is a personal thing for all traders. The decision is all yours. You know what your goals are as a trader, the kind of strategy you use to trade.  All this starts from what you are? and What you want? If I am to answer, this...
Viewing 18 topics - 1 through 18 (of 18 total)
Viewing 18 topics - 1 through 18 (of 18 total)