You can make money with bitcoin in mainly 3 ways. These include; Bitcoin mining, Investing in bitcoin or buy and sell bitcoin on the market chart.
Let's look at each in detail;
Bitcoin mining
This requires you to solve complex mathematical equations with your computer hardware to be able to generate bitcoins and become part of bitcoin network.
When you find the right number you are rewarded with new bitcoins and then added to the network. The miner validates transactions and records them into the blockchain
Investing in bitcoin.
Like stock, shares and fiat currencies bitcoin also appreciates and depreciate in value. Relating bitcoin with stocks and currencies, you can choose to hold your money in bitcoin when it has appreciated over the other currencies and sell it at a future higher price.
Taking advantage of any exchange markets where people use fiat currency to buy bitcoins.  If you have been following bitcoin price values you can take advantage of price differentials. For instance you can use Yens to buy more bitcoins and sell it at a later date on the network for higher price in dollars.
You can also earn from bitcoin by speculating the future price of bitcoin with other local currencies. Like the forex market currencies, bitcoin is also known to be the most volatile and good at making strong movements both up and down. When predicted right you are able to make big profits from the market.
These predictions can be based on technical or fundamental analysis or both!
Lucky enough you don't have to first buy bitcoin to trade it. It has been made easy for you by some brokers who provide bitcoin pairs with other local currencies on their platforms giving you a chance to trade bitcoin without having to first buy it.
Currency pairs like BTC/USD have appeared on the forex market which means you still stand a chance to trade bitcoin by just speculating its future price and earn money. Other major fiat currencies that can be traded with bitcoin include the GBP, CAD, EUR, CNY, JPY.
Take a look at the BTCUSD, 4-Hour chart below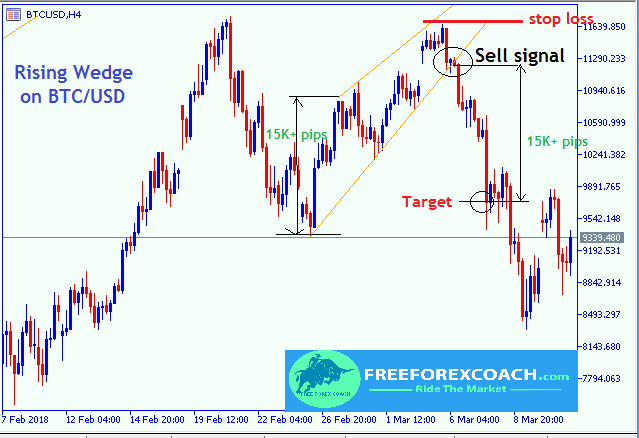 The chart formed a rising wedge which is a sign of reversal to the downside. This was a sell signal with a target of more than 15,000 pips. If you had used a standard lot, you would make much more than $15,000 profit. This what i mearnt, when you do your analysis very well, the rewards are enormous!
While trading Bitcoin, you should always be aware of the fact that bitcoin is very volatile so anything can happen and your account get wiped off. As a defense mechanism equip yourself with risk management tools and trade only that you can afford to lose.
How to Buy and Sell bitcoin?
You can buy bitcoin online using your credit or debit card or find a bitcoin exchange.
First you need to download a bitcoin wallet from sites like blockchain.info or for a mobile app use bitcoin wallet for androids or blockchain bitcoin wallet for iOS and fill in the required information.
After owning a bitcoin wallet, you can now buy bitcoin from any bitcoin exchange using a credit or debit card, bank transfer.  Click on the buy button. It is done instantly. The bitcoins are then transferred to your bitcoin wallet.
Bitcoin price can vary around the world so be sure to do your research to make sure you are getting a fair deal.
Selling bitcoin
There are different ways of selling bitcoin. They include; Selling bitcoin online or Selling bitcoin in person.
Let's discuss these in detail so that you can easily choose what is more convenient.
Suppose you want to sell bitcoin online.
Here is what you do:
One way is to do a direct trade with another person facilitating the connection.
Here you can use websites like Coinbase and local bitcoins in the US, BitBargain and Bittylicious in UK . These give opportunities to bitcoin sellers to register and post their offers and are called upon incase bitcoin buyers avail to trade. The transactions are directly between the buyer and the seller but it is done on the website.
Or go through an online exchange.
These work as forex market brokers. When you are registered with the online exchange all you have to do to sell your bitcoins is to place a sell order stating the amount,  currency (bitcoin) and the price per unit at which you are selling. You will then be matched with a buyer who is having the same order and the transaction will be completed with currency credited to your account.
You can also use a peer to peer arrangement.
A market place that brings together bitcoin owners who want to use bitcoin to buy goods from sites that don't accept bitcoin and the others with credit card but want to buy bitcoin. These are also bitcoin sellers and bitcoin buyers in same place. The market place acts as an intermediary and helps the two people to meet their needs.
While selling bitcoin in person one just makes it so simple for you. All you have to do is know the person interested in buying bitcoin. When you are all in agreement about the transaction, scan the QR code on his or her phone use the bitcoin wallet to send the bitcoins and collect your cash.
Carrying on these transactions involves a lot of money and you often meet with strangers. It is always advisable to always make enough research before getting involved with any of these sites because some may not be what they say.
Be aware of fraudsters.  While meeting people in person choose to meet in public places just to feel safe. Keep your wallet address secret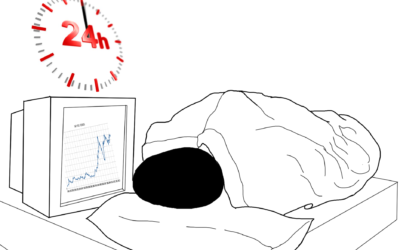 How long you should hold an open position, is a personal thing for all traders. The decision is all yours. You know what your goals are as a trader, the kind of strategy you use to trade.  All this starts from what you are? and What you want? If I am to answer, this...
Viewing 18 topics - 1 through 18 (of 18 total)
Viewing 18 topics - 1 through 18 (of 18 total)