Now that we have learnt the different chart indicators and how to use them, we can take advantage of that by using more than one indicator to identify strong signals. As you continue to practice to get a perfect indicator that suits your trading strategy you will realize that most of the times these indicators give false signals especially on lower time frames.
To avoid this most of the traders use different indicators at the same time and trade only when all the indicators have come to an agreement. Each of these indicators has its own weaknesses but if they all come to an agreement it gives a signal that something is happening in the market.
Let's do a some examples examples;
How to combine MACD with Moving Average Cross over for entry signals
Here is an example on EUR/USD hourly chart. The Simple Moving Averages used are 9 SMA and 21 SMA and MACD is to its default settings.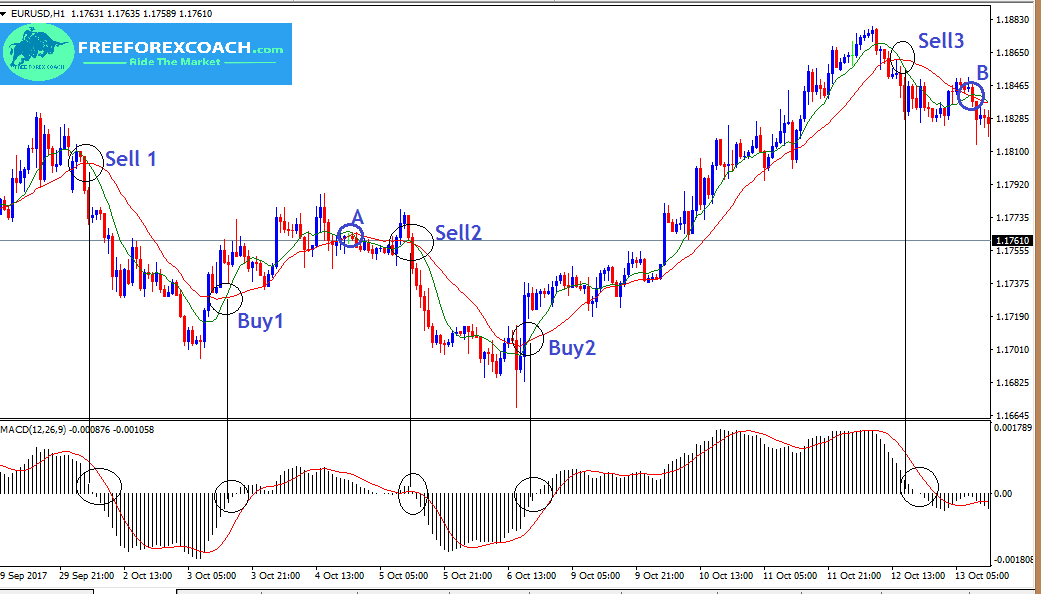 As we discussed in the previous sessions, MACD gives signals when the histogram and signal line cross the zero line.
From the chart above, the sell and buy signals are only when there is both a moving average crossover and MACD histogram crossing the zero line. That is why A and B crossovers in this case are not signals because the the MACD did not give a signal too. All in all, enter trades when both indicators give signal at same time. EXit/Take profit immediately when there is Moving average crossover. 
Let's take a look at another example.
Combining Bollinger bands with Relative Strength Index (RSI)
Just a small reminder on the Bollinger bands: As the bands contract, it signals a reduction in volatility which may lead to a sideways direction or congestion. As they expand it signals an increase in volatility which may lead to a strong rally of prices either in an uptrend or downtrend.
So, how do we combine Bollinger bands and RSI  to identify entry and exit price levels? Let's take a look at the example below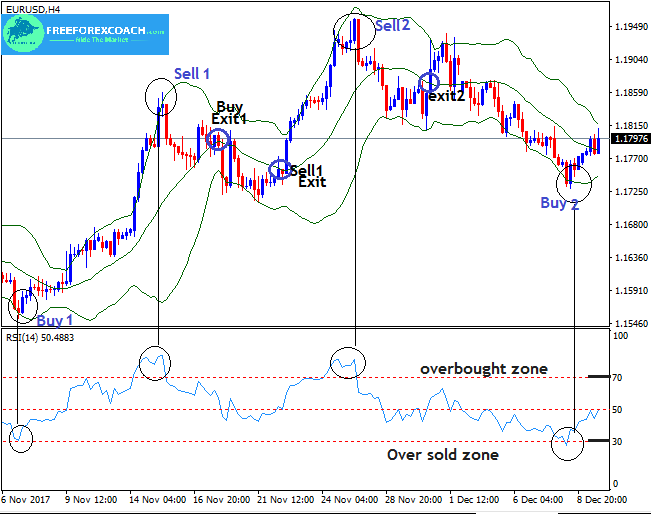 Looking at the chart above, you will see how these indicators can give good trade signals when combined together.
As the Bollinger bands follow the price movement acting as Support and resistance, the RSI helps to identify the overbought and oversold conditions. So the entry signals are when the RSI shows overbought or oversold and also the price is on the Upper or lower band respectively.
Buy signal( RSI oversold + Lower band support)
Sell signal( RSI overbought + Upper band resistance)
Let's discuss about the exit on the signals from our example above.
 The exits on the signals above is when the candle closes below/above the middle band from the from the lower/upper band i.e;
Buy exit (price from upper band and closes below middle band) e.g Buy exit1 for Buy1 on the chart above
Sell exit (price from lower band and closes above middle band) e.g Sell exit 1&2 for Sell 1&2 on the chart above
Trading using indicators is profitable when applied well and can be used on any kind time frame. Since it is still done in the Forex market, it is possible you can still make a loss even if you choose to use all the indicators at the same time. Most of these indicators are well known for giving fake signals. Like we always say anything can happen in the market, make use of stop loss and other risk management tool to minimize losses and protect your account.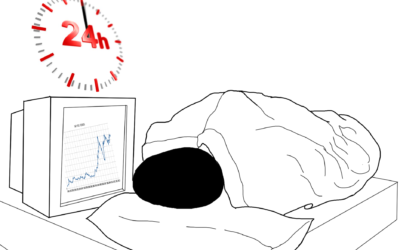 How long you should hold an open position, is a personal thing for all traders. The decision is all yours. You know what your goals are as a trader, the kind of strategy you use to trade.  All this starts from what you are? and What you want? If I am to answer, this...
Viewing 18 topics - 1 through 18 (of 18 total)
Viewing 18 topics - 1 through 18 (of 18 total)